When you join the YMCA you not only gain access to the fitness classes, equipment & facilities at the Anniston YMCA, the Oxford YMCA & the YMCA of Coosa Yalley, You become part of a

CAUSE

.
The YMCA is a non-profit organization dedicated to strengthening our community through programs that promote Youth Development, Healthy Living and Social Responsibility. There are exciting new things happening at the YMCA of Calhoun County. Join today and become a part of that cause.

About Our Facilities
The Anniston and Oxford facilities of the
YMCA of Calhoun County are open to
members and guests during hours listed. All r
ules apply to any person using the YMCA facilities. Members or guests must be fourteen years of age or older to enter the Fitness Center or Free Weight room.



The facilities of the YMCA of Calhoun County are as follows:
Anniston:

Air conditioned double Gymnasium with running track and six basketball goals; Two racquetball cou

rts; Four lane, twenty five yard indoor swimming pool; Largest selection of group exercise fitness classes in the area; Adult fitness centers with 14 Cybex strength training circuit stations; PRE-COR treadmills, PRE-COR ellipticals, Vision recumbent bicycles, Rowing Machine and a Stretching Station; Free weight room; Meeting Rooms; Class Rooms; Men and Women's Whirlpool, Steam Room inside the locker area; and Child Watch area.

Oxford:

PRE-COR treadmills; PRE-COR ellipticals; EXCLUSIVELY AT THE Y…the PRE-COR AMT (ALL BODY CARDIO WORKOUT); PARAMOUNT twelve station fitness machines; Family Friendly "Butterfly" Resistance Machines for Ages 8 & UP. free weight area; Cardio Theater; Fitness Classroom; changing rooms with shower, child watch area, and member lounge area.





Age Requirements




All youth age 13 or younger must be accompanied by an adult member while using the facilities of the YMCA of Calhoun County. The Fitness Centers and the Free Weight Rooms are restricted for use by members 16 years and older. At the Anniston and Oxford Facilities youth ages 14 -15 are permitted in the Fitness Centers and (Free Weight Rooms with parental supervision) after completing a fitness center orientation. No one under the age of 14 will be permitted to use the Fitness Centers and Free Weight Rooms at the Anniston YMCA. In Oxford only, youth ages 8-15 must complete an orientation session and be accompanied by a parent member at all times and may use the cardio or family fitness equipment as marked

.



Guest Policy

The YMCA of Calhoun County charges all Non-Facility Members a daily guest fee of $9.00. Any guest fee paid within a thirty day period of joining may be applied to a permanent YMCA membership. All guests must have proper identification and provide it when requested by YMCA personnel. Any youth thirteen years of age and younger must be in the presence of an adult member or a paid adult guest at all times while a guest in the facility.
Always Welcome at YMCA
The AWAY program allows you to use your YMCA of Calhoun County membership at other Y's across the United States for free or rates according to local policy. The YMCA of Calhoun County participates in this program and allows active members from other YMCAs three free visits per month. The AWAY policy does not exempt visitors from fees that members are required to pay for participants.
Membership Info
Monthly Fee

One Time Joiner's Fee

Adult
(Ages 18-59)

$46

$75

Family***

$66

$100

Single Parent
Household

$57

$75

Senior Individual
(Ages 60+)

$44

$50

Senior Couple
(Ages 60+)

$60

$75

Student
(Ages 14-22)

$30

$15

Youth
(Ages 13 and under)

$15

$0

Lunch Crunch

$30

$75
* Member authorization of a monthly bank draft or credit card. First month's dues must be paid upon acceptance of membership application. A thirty day advance written notice is required to cancel any memberships.
** The Joiners Fee is a one time fee as long as you remain a member. If you cancel and rejoin, you must repay this fee.
*** Includes all dependents claimed on income tax return, up to age 22 and still enrolled in school, and as defined as "family" by Alabama State Law.
Scholarship Assistance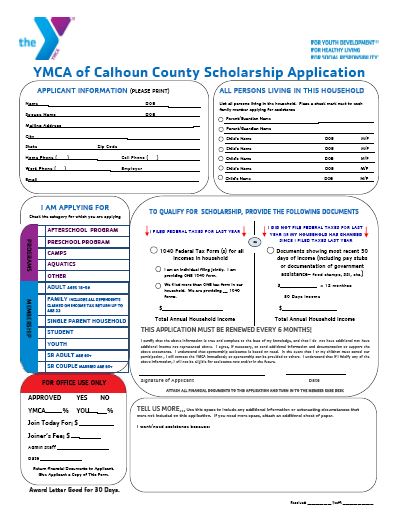 YMCA's policy is to never turn anyone away due to ability to pay the stated fees, when need is demonstrated. Scholarship applications are available at the YMCA. It takes up to two weeks to process applications. Applications received less than two weeks before program start date are not eligible. Scholarships are available from funding by the YMCA's Strong Kids Campaign donors.
Any questions or concerns regarding a YMCA of Calhoun County program should be addressed with the program supervisor at your program site. They will assist or advise you to a resolution of your concern or you may contact the YMCA of Calhoun County at 256-236-YMCA.

Membership ID Card
All members are required to present their membership card for admittance to the facility. Replacement cards are available for $5.00 per card.

Insufficent Funds
Any automatic payment returned due to "NSF" will require immediate cash payment of monthly fee and any additional fees the YMCA has incurred due to the member's bank account being classified "NSF" before membership privileges will be re-instated. Two "NSF" events will cause membership to be revoked and member will not be allowed to return until annual fee and any fees incurred by the YMCA are satisfactorily paid in full.

Change in Bank Card or Checking Account
The Y is not notified by any financial institution when a Y members drafting information has changed. Until the Y is notified by the respective member, the Y's system will automatically debit the previously authorized bank or credit card account. The Y member will be required to pay any incurring fees as stated in the return check policy information below.

Returned Checks
Any returned items from bank will require a $35.00 service charge plus any other fees the returned items has been charged to the YMCA. In the event of change in billing information, it is the members responsibility to notify the YMCA to avoid NSF fees.

Program FeesProgram fees are due at time of registration. A registration is not complete until payment of applicable fees. Upon payment of fees, at the Member Care Area, a receipt is provided as proof of payment. We request you retain your copy of the receipt until the class session is completed. Telephone registrations are not acceptable and payment can not be taken over the phone. Each class has a minimum and maximum enrollment space. Program schedules and information are subject to be revised or changed, so please stay informed by reading the YMCA bulletin boards or asking for information at the Member Care Desk during your next visit to the YMCA. The Member Care Staff will gladly assist you.

Refunds and Class Cancellations
In the event the YMCA must cancel a class period (i.e. inclement weather), make-ups will be scheduled or credit given for the next program session. Refunds on program or membership fees are not allowed. Credit for unused memberships due to absence not allowed. Members absent or not attending programs or missing a class period are not eligible for refunds or make-up periods. Many of our classes and programs reach maximum enrollments, therefore program refunds are not given for any reason when one class period has begun.

Cancellation of Membership
A signed cancellation notice thirty (30) days prior to termination is required to stop your automatic payment plan. An additional automatic payment will most likely occur if the thirty day notice is not given to the YMCA. The YMCA is not responsible for any refunds if an automatic payment or charge is made without a signed thirty (30) day cancellation notice being completed. Failure to complete the required thirty (30) day notice will cause additional service fees to accumulate for which the member is responsible to pay.